The next stage of Manchester City's quest for football domination is European success, but they're facing one of the tougher Champions League Groups featuring the champions of Spain, Germany and the Netherlands. And they've made a slow start. A 3-2 defeat at the Bernabeu in their first game was not the end of the world, but the shambolic nature of City's play in the last twenty minutes was of concern.
Mancini is clearly still searching for his best options. He's tried three at the back, which hasn't really worked and neither has playing two up front, mainly because the team aren't used to it but also because he doesn't yet know which is his best strike partnership. A four man midfield can also leave them outnumbered against teams like Dortmund who play the fashionable 4-2-3-1.
As a consequence of Mancini's tinkering, City have not looked at their best so far this season. Their passing has not been as zippy as usual, the creativity and invention is missing and there has been more than a touch of sloppiness about their defensive play.
In four home games this season, they've scored nine, but conceded eight, including four last week against Villa in the League Cup
.
Conceding goals has also been a problem for the German champions. D
ortmund's run of 31 league games without defeat came to an end at Hamburg with a 3-2 reverse and they also conceded three goals away to Frankfurt last week
. This may partly be due to defensive rustiness but they have also tended to overdo the pressing game away from home, pushing too far up leaving their defence exposed.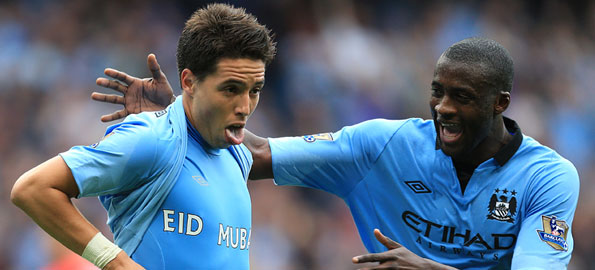 Consequently, they are likely to adopt a more conservative approach at the Etihad, with the familiar five man midfield, featuring Mario Gotze playing behind lone striker Lewandowski and full-backs Piszcek and Schmelzer not given as much licence as usual to maraud forwards. A purely defensive approach is not in their nature, but they will surely have to pay some deference to City's array of attacking talent.
And it is this sheer number of options that Mancini has at his disposal that makes Manchester City so hard to pin down. They may be struggling for form, they may look lethargic or uninspired, but more than any other team on the planet they have the ability to turn things around instantly with a tactical adjustment or the addition of another couple of superstars from the bench.
It is that greater edge in terms of talent that make City a solid selection at 8/11 to claim their first Champions League victory of the campaign
. And given the way that these two teams have gone about their football so far this season, I think we can safely say there will be goals.
It's worth backing 'Over 2.5' in the Total Goals market at 4/6 and 'Over 3.5' is also worth a look at 7/4
.